The Image of Edessa - Anchiskhati
Medieval Georgian sources identify the Ancha icon with the Keramidion, a "holy tile" imprinted with the face of Christ miraculously transferred by contact with the Mandylion. According to the Georgian hymnist Ioann, bishop of Ancha (fl. 1195), the icon was brought in Georgia by Apostle Andrew from Hierapolis. An 18th-century inscription on the icon covering associates the Anchiskhati with the Image of Edessa, an "icon not made by hand", brought to the cathedral of Ancha in the Georgian princedom of Klarjeti to preserve it from the iconoclastic campaign by the Byzantine emperor Leo III the Isaurian.+

The icon is now kept at the National Art Museum of Georgia in Tbilisi.
Documentary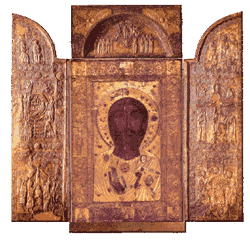 Download